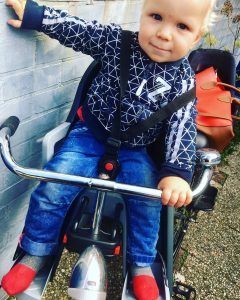 Lucas begint zich op te trekken en het duurt niet lang meer voordat hij zijn eerste stapjes gaan zetten. Het is tijd voor echte kinderschoenen nu hij 1 jaar oud is. De kinderbijslag is gestort en ben dus klaar om te gaan shoppen en de schattige slofjes in te ruilen voor de " real deal". Het maakt gelijk zijn outfit af
Maar waar moet ik op letten, wat is wijsheid, welke webshop is geschikt en welk kinderschoenen merk moet ik kiezen? Om nu te gaan passen in een winkel om ze vervolgens online te kopen vind ik ietwat ver gaan, dus ben gaan struinen op het net. Lees je mee…..
Babyvoetjes
Een baby heeft van nature een platte voet die sterker zal worden met de jaren. Het is echt niet belangrijk om in het begin goede, ergonomische zolen te kopen voor je baby. Voordat je kindje gaat lopen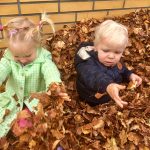 is het beste advies om zachte schoentjes aan te schaffen. Schoentjes met een dunne (leren) zool zijn ideaal zodat je baby snel kan leren lopen en door de zool grip heeft. Eerlijk gezegd staat het super leuk, maar vind ik het bij babytjes ondingen. Sokjes voldoen mijn inziens helemaal.
De juiste kinderschoenen
Nu Lucas zich begint op te trekken en in staat is om de meeste tijd van de dag te staan, is het tijd om goede schoentjes te kopen. Experts raden aan om een kindje max 3 maanden op de schoentjes te laten lopen en geven nog meer tips die ik graag met jullie deel. Kies bijvoorbeeld niet voor 2e hands schoenen, omdat de vorm van de voet van de voorganger er dan in staat. Kies de goede maat kinderschoenen met een goede flexibele en ergonomische voetzool en speelruimte zodat het voetje goede beweegruimte heeft. Houdt er rekening mee dat de linker en rechter voet kunnen verschillen. Houdt hierbij 1 cm speelruimte in gedachten.
Schoeisel met flexibele zool voor 1 jaar en 2 jaar
De eerste echte kinderschoenen worden meestal gekocht wanneer de baby tussen de 1 en 2 jaar is. Voor zijn eerste echte schoenen, zijn enkellaarsjes geschikt omdat het de voeten stevig omvormt. Daarnaast zijn ze niet eenvoudig uit te trekken door die kleine dondersteen. Waar je ook op moet letten is de schoenzool. Een buigzame zool is echt cruciaal om een goede ontwikkeling van de kindervoeten te ondersteunen. Ik vind zelf klittenband heel fijn en handig.
Uittesten
Test dit dus ook uit bij de aanschaf. Ik heb ooit schoenen gekocht met zolen die zo stug waren dat het net klompen waren. Ze staan nu ongebruikt in de kas mooi te wezen. De flexibiliteit kan afnemen bij grotere maten. Vanaf de maten 24 tot en met 27 moeten de zolen nog wel ietwat flexibel zijn en vanaf maat 28 mag dit minder zijn.
Goede schoen maat
Het is vooral belangrijk dat de kinderschoenen de voeten goed beschermen en vooral niet te zwaar zijn. De schoenen moeten ook goed "ademen" waarbij een goede schoenmaat cruciaal is. Te strakke kinderschoenen kunnen bij kinderen snel voor blijvende schade zorgen. Denk hierbij aan vervormde voetjes en een niet natuurlijke vorm.
Let op!
Te grote kinderschoenen zorgen voor te veel speling waardoor de voetjes kunnen gaan schuiven. De kans op zweetvoeten, infecties en vervorming van de voetjes neemt dan toe. Vergeet niet dat kinderen ook altijd de behoefte hebben om te kruipen en ook nog veel zullen omvallen. Daarom kies ik graag schoenen van sterke en goede kwaliteit. De kinderschoenen moeten dan wel tegen een stootje kunnen. Let hier dus op qua materiaal. Suède schoenen werkten niet bij mij, veel te fragiel.
Klittenband of veters?

Bij de babyschoentjes heb ik kinderschoenen gekozen die ik fijn vond. Instappers bevallen mij heel goed. Veters en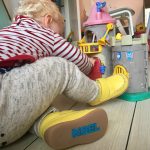 kleine kinderen doen het niet voor mij, maar dat is persoonlijk. Ze schieten bij mij altijd los, de kinderen struikelen er over en ik moet ze tig keer strikken of er een knoop in leggen. Het voordeel van veters is dat grote voeten gemakkelijker in een schoen te krijgen zijn. Bij Yvette vond ik een rits ook fijn. In het begin zijn de schoentjes nog ietwat stug, maar op den duur schiet je ze zo aan, rits dicht en hupsakee. Als een kindje zich zelf leert aankleden zou ik kiezen voor klittenband. Dat vind ik dé ideale uitvinding. Op den duur leer ik ze heus wel om veters te strikken, maar nu kies ik nog even voor het gemak.
Kwaliteit van kinderschoenen
Bij de keuze van kinderschoenen kies ik graag voor kwaliteit. Hierbij is een goede keuze van materiaal belangrijk.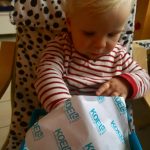 Plastic schoenen ademen niet en zorgt voor zweet voeten. Dit wil je niet voor je kindje, want kinderen met zweetvoeten worden vaker gepest. Daarnaast schamen ze zich als ze hun schoenen moeten uit te trekken. En ik zal er als moeder uiteindelijk ook op aangekeken worden. " Nope, Not on my watch"
Leer
Een goede keuze is dus echt leer. De voetjes kunnen in leren schoentjes goed ademen omdat leer ventileert. Een ander voordeel van leren kinderschoenen is dat de schoenen zich eenvoudig kunnen aanpassen aan de vorm van de voetjes. Ze vormen zich om de voetjes heen. Vandaar dat je ook beter geen 2e hand kinderschoenen aan je kindje kunt geven. Hoe verleidelijk ook, want de schoenen van Olivier zou ik maar wat graag doorgeven aan Lucas.
De schoen maten

De grootte van een babyvoetje verandert elke twee maanden. Na negen maanden verandert het ongeveer elke vier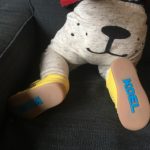 maanden! Vanaf 2 jaar groeit de voet 10 mm per jaar, ook wel een halve maat tot een maat per jaar. Kinderschoenen zijn duur, maar we kunnen er niet omheen. We moeten om de zoveel tijd toch echt nieuwe schoentjes kopen. Met drie kinderen is dat best een serieuze kostenpost.
Liefde op het eerste gezicht
En dan ben ik ook nog smaak gevoelig. 1 paar schoenen is ook zo wat. En een extra paar is ook wel handig, want nog niet zo lang geleden lag Olivier met kleding en al in het water. Het ontbrak me aan een 2e paar droge schoenen. Aj. Als goedkopere kinderschoenen aan bovenstaande voorwaarden voldoen, zijn ze uiteraard helemaal geschikt. En als je goed het internet rond struint zijn er veel aanbiedingen terug te vinden. Tijdens het struinen ben ik beland op een merk die mijn hart heeft veroverd.
Besparen, maar toch goede kinderschoenen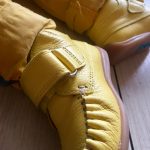 Mijn advies is om nooit "goedkope" schoenen te kopen. Er zijn veel manieren om kwaliteit schoenen te kopen en daarnaast ook te besparen. Je wilt immers geen dief zijn van je eigen portemonnee en het beste voor je kindje. Goede, kwalitatieve merken zijn heel goed in de Sale te verkrijgen omdat het uit een oudere collectie komt. Daarnaast zijn er ook veel aanbiedingen terug te vinden. Een kindervoet verdient echt een goede schoen!
Onze keuze
Wij zijn geslaagd bij Koel4kids en heb de schoenen online kunnen bestellen. De keuze is gevallen voor dit merk,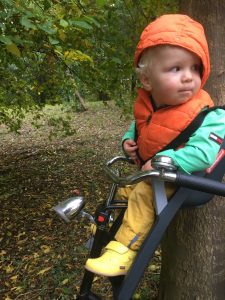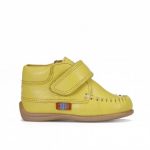 omdat het aan alle bovenstaande richtlijnen voldoet. Ze zijn tof, verfrissend, mooi qua design, origineel, van leer, verfrissend, kwalitatief hoogwaardig en toch betaalbaar. Bij drie kindjes moet je toch wel opletten op wat je er op uitgeeft. Op schoenen kun je leeglopen. Ik ben een modebewuste mama die mijn kindjes er ook graag hip uit wil laten zien. Het kiezen tussen alle modellen was nog wel een dingetje… ze zijn gewoon allemaal leuk.
Ik geef dit merk dan ook heel graag een platform die ze hebben verdiend. Er komt snel een te leuke video online, want deze mamarazzi is natuurlijk los gegaan met video's en foto's. Zijn eerste stapjes gaan echt vastgelegd worden op deze toffe stappers. Ik heb gekozen voor een tof kleurtje, genaamd Taco. Tof toch!
Liefs Olivette
Olivette is ook actief op Twitter Facebook Youtube Instagram We vinden het superleuk als je een berichtje achterlaat